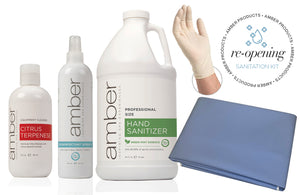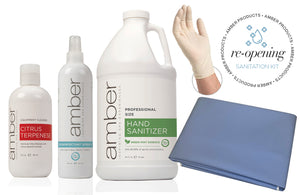 On Sale
Amber Products Re-Opening Sanitation Kit
Protect your employees and ease the mind of your customers with our new AMBER RE-OPENING SANITATION KIT!
This bundle contains long-time customer favorites along with BRAND NEW items brought together at an unbelievable price.
Retail Value: $132.57
Spa Elegance SALE Price: $99.95!
OVER 25% OFF!
Kit Includes:

1 Amber Wax Pad in Light Blue
Comfort for your client, yet no worries about wax spills. The wax pad is easy to clean and sanitize. Simply spray with a mild disinfectant between clients. At end of day, place in washer on cold, hang to dry. Fits most standard size facial and massage tables. Wax Pad measures 36"x 76".
1 Package of Disposable Gloves
1 Professional 8 oz. Disinfectant Spray
Powerful Disinfectant Spray tough enough to kill 99.99% of germs on surfaces.
Works Quickly and Effectively with High Quality 75% Isopropyl Alcohol • No Rinse Required • Perfect for High Volume Users.

1 Professional 4 oz. Citrus Terpenese Equipment Cleaner
Nonflammable cleaner removes wax from equipment and waxing stations.
1 Professional 64 oz. Amber Professional Green Mint Hand Sanitizer
Advanced Formula Hand Sanitizer for Professional and At Home Use. Infused with the Fresh Scent of Green Mint.
• Clear formula
• Kills 99.99% of many common harmful germs and bacteria
• Perfect for High Volume Users
• Convenient pump for easy dispensing
• Green Mint Essence for fresh smelling hands